Arcadia Magazine with Olivia Culpo Wearing Nude Envie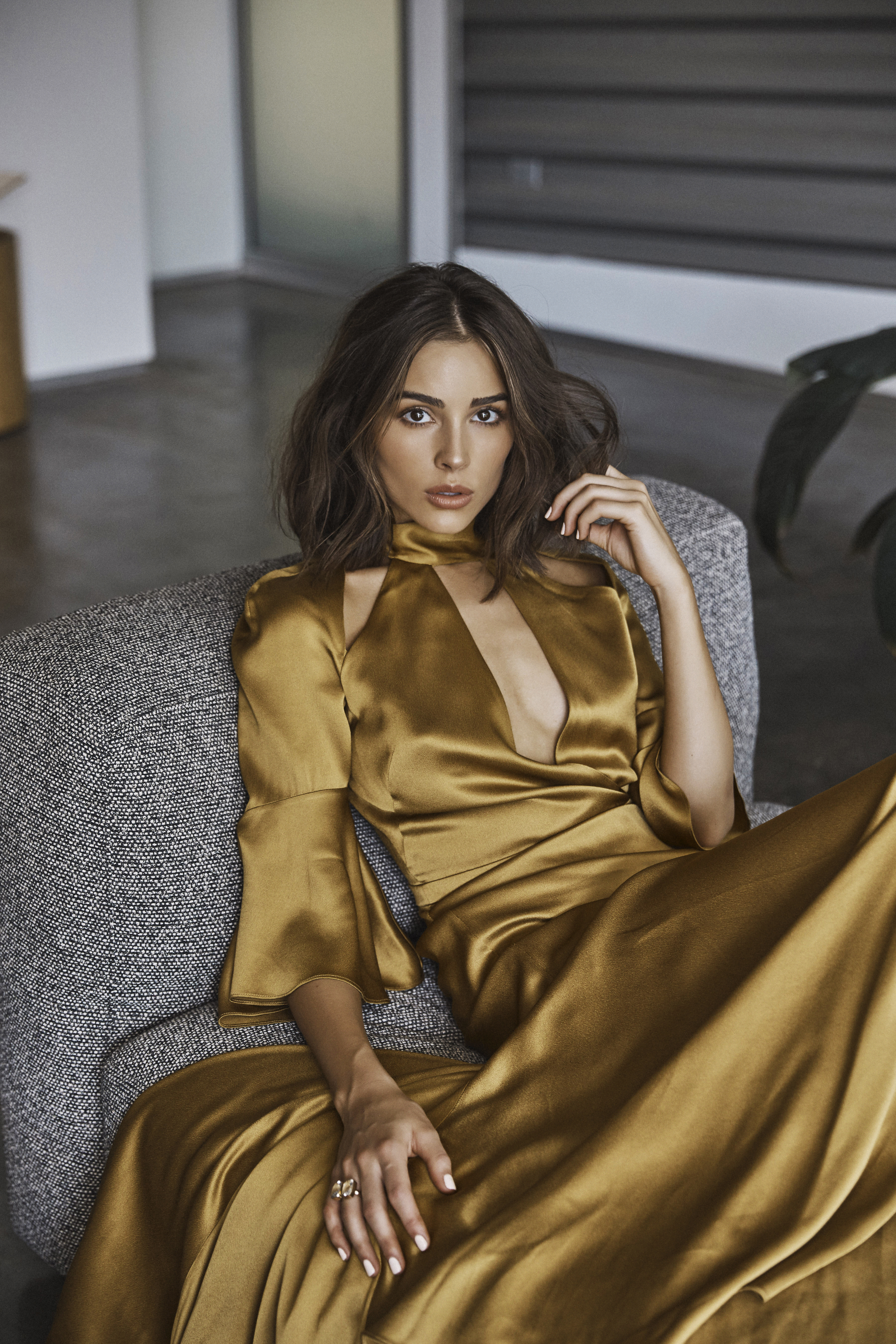 Dress – Temperley
Ring – Charles Albert
Former Miss Universe, Hollywood actress, fashion icon, restaurateur and entrepreneur. Olivia Culpo is completely unfazed by the entrails of the silver screen; she prefers firing up the pizza oven back home with her family than being on the red carpet at the Oscar's. Olivia Culpo is a woman that brings dreams to life in a blink of an eye; no guts, no glory.
This isn't my first rodeo with Olivia Culpo. Back in August 2015, I sat down with Olivia to discuss life after becoming Miss Universe. I distinctly remember being thoroughly impressed by Olivia's plans for the future; this was a girl with unshakable drive and big dreams.
Fast-forward two years, I can only sit back in awe and marvel over those dreams that Olivia has since brought to life before my very eyes. In the original interview, Olivia had said dreamily, "I have always liked the idea of owning my own business, especially a restaurant someday. I have always wanted to take care of people and cook for them. You never know, maybe one day that will happen."
On 30th August 2017, Olivia opened Back 40 in her home state of Rhode Island. Back 40 is a quaint country-style restaurant serving outstanding all-American cuisine, and you're invited.
I reminded Olivia of our previous conversation, she gasped and laughed heartily.
She said, "Wow, that is so cool to think about. It has always been a dream of mine to open up a restaurant, but I never thought for a second that it would happen so quickly. It's an awesome experience and to be doing it now is rewarding."
Olivia is the middle of 5 children and has always kept her family firmly close to her heart. So it comes as no surprise that when she decided to invest her money back home, she was determined to make Back 40 a family business.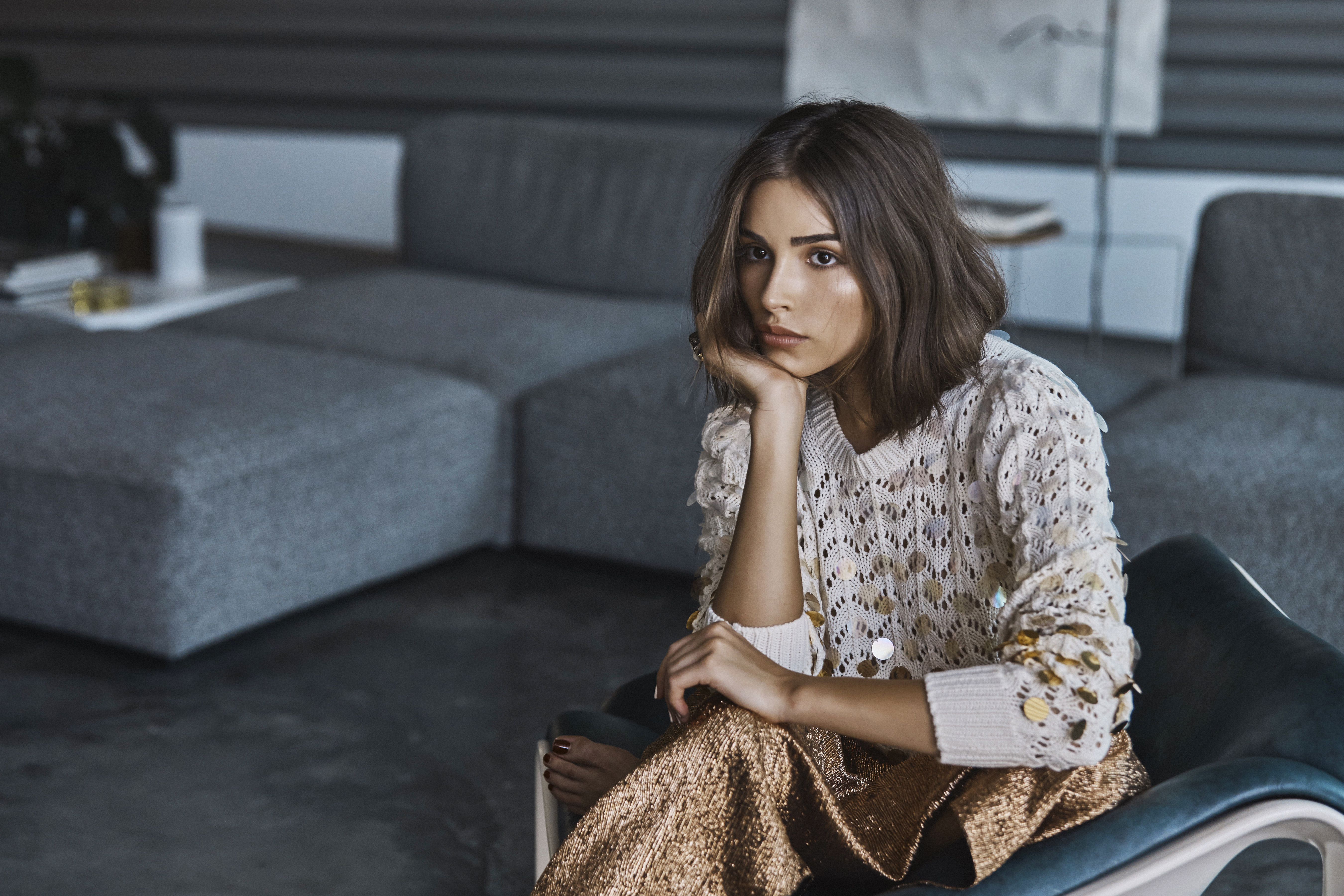 Jumper – Marc Jacobs
Skirt – Jil Sander
Ring – Laurence Coste
She revealed, "The concept of Back 40 is all about family; it is owned by my dad, my cousin and I. My dad has owned restaurants for pretty much my whole life. I was inspired by him and intrigued by the idea of creating an environment that's so welcoming. As you know, I love to take care of people, and love the thought of having regular customers and building a community."
Building any business can be challenging to say the least, especially when you are working alongside the people you love the most. Olivia revealed that the secret to a harmonious collaboration is a mutual agreement to bend your wishes a little when necessary. However, when it came to the menu, they were all firmly on the same page.
She said excitedly, "Back 40 has family orientated cuisine. My favourite dishes on the menu are the New England Clam Chowder and the Fried Chicken with Whipped Potatoes and Honey Butter. My dad texted me earlier saying that we now have 25 beers on tap."
She added, "It's definitely been a lot of pressure. When my dad opened restaurants in the past, it was totally under the radar. Back 40 has been in the press a lot, so this is very different to anything my family has experienced before. We are really excited, anxious and happy that it is finally getting off the ground. Hopefully, it will be a success."
When the rumour-mill began to whir that Olivia was opening a restaurant, one could wrongly assume that it would be another aesthetically pleasing but soulless celebrity eatery with more focus on a guest list full of models and IT-girls. However, those that know Olivia well, know better; she has always maintained firm family values, which she entirely credits to her close-knit upbringing.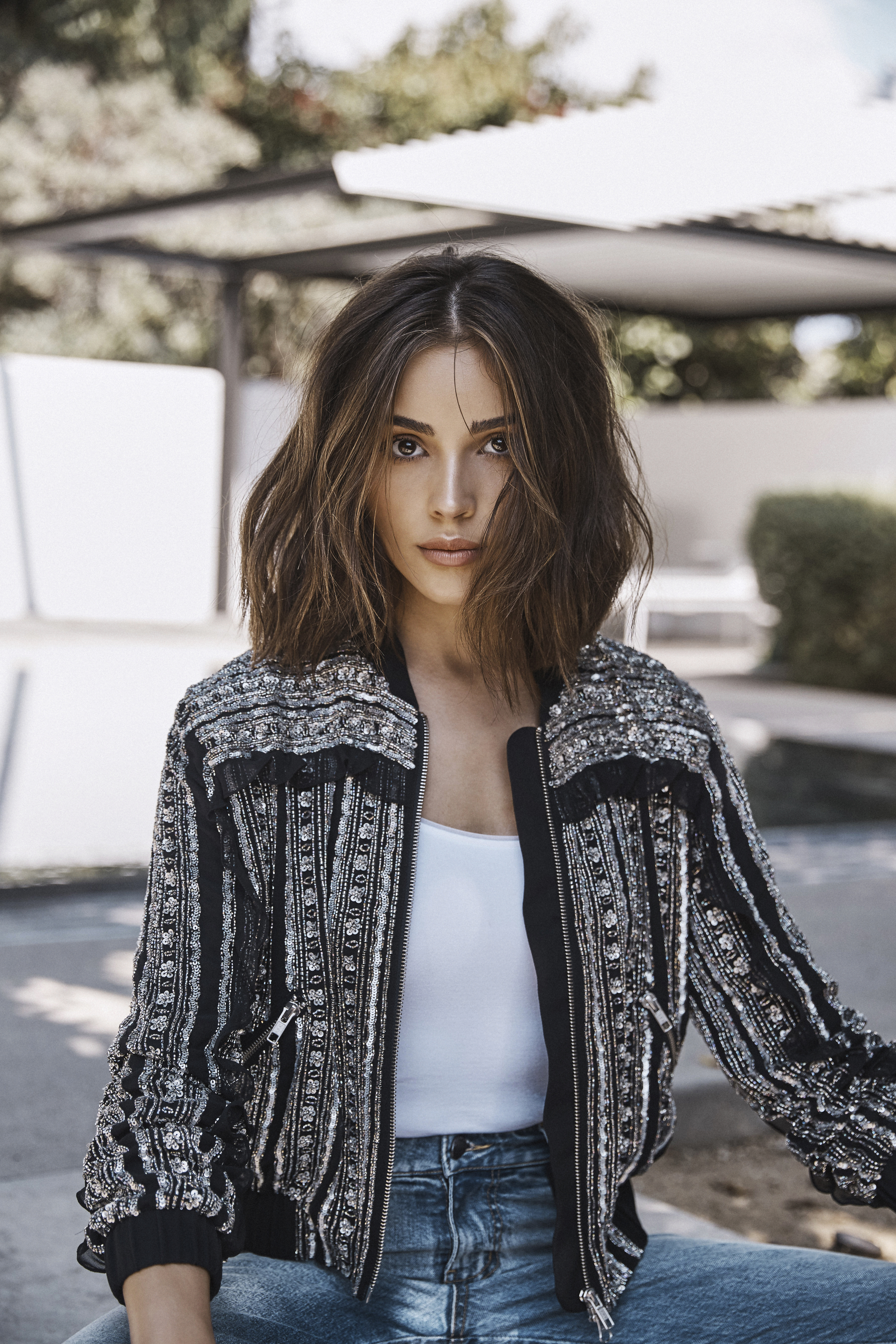 Earrings- Laurence Coste
Jacket – Needle & Thread
Top – Wolford
Jeans – Alice & Olivia
Ring – Laurence Coste
She revealed nostalgically, "It can be overwhelming to go to all these glitzy events. Yes, they are exciting, but the most important thing is where I came from and the people that I've grown up with."
She added, "My parents did a really good job of teaching me to prioritise your community as opposed to material things. Being from a big close family helps keep me focused on my priorities; there are always a lot of people ready to bring me back down to the earth. That's why I've been able to adjust so much in my career."
Olivia lives a bi-coastal life between Los Angeles and New York, but Rhode Island where her family and boyfriend NFL-player Danny Amendola live, will always be home.
She explained, "I'm fortunate because my family live 10 minutes away from my boyfriend, which is important because we're in a long-distance relationship. Rhode Island is so small, everybody knows each other, and there are a lot of big families and friends that feel like family. Whenever I'm there, I'm reminded that I don't need a lot of things to feel happy."
Fitness has always played a fundamental role in Olivia's life, whether it's playing football with her boyfriend in the park, boxing or venturing to the gym.
She revealed, "Lately, I mostly train with Danny; we've been playing lots of football in the park together. It's simple, he throws the ball at me, and I run and try my very best to catch it. I love working out; just this morning I found a great boxing class. I try and do something active every day; it helps keep my energy levels up. I know that sounds weird because working out should burn energy but for me, it's the only thing that gets me going for the whole day."
Blazer – Alice & Olivia
Trousers – Alice & Olivia
Top – Halston
Ring – Laurence Coste
She laughed knowingly, then said, "Sometimes I'm really not in the mood to workout and it's hard to take that initial step, even though you know you will feel so much better afterwards. So, I have a friend who I always text for encouragement when I can't be bothered. Get a workout buddy, even if it just for emotional support; it's important to have someone to hold you accountable because you can't always be the one to push you."
Olivia recently turned her hand to fashion design and embarked on a stratospherically successful collaboration with Pretty Little Thing. The extensive line is an opulent collection of enchanting floor-length gowns, whimsical playsuits and elegant wide-leg trousers in a palette of predominantly oxblood, black and white. PLT x Olivia Culpo is a lesson in feminine power dressing, embracing layers of luxurious lace, bold florals and decadent frills.
Olivia confessed, "I was inspired by my Italian heritage. I based it on Italy in the height of summer, and the idea of flowers blooming in a busy city. I feel like the clothes are very feminine, floral and romantic, but they also have an edge just like the backdrop of a city against the blooming flowers."
She added, "I was also inspired by Dolce & Gabbana's last collection, a sort of grand Italian romance. I wanted the collection to be different, but I also wanted it to be something that I knew would appeal to the Pretty Little Thing customer. It was a collaborative effort; we were constantly back and forth with designs and ideas. I'm really happy with the final collection."
Olivia's 'no guts, no glory' approach is especially apparent in her personal style. She has a clear vision of what works for her and delights in being adventurous with her aesthetic.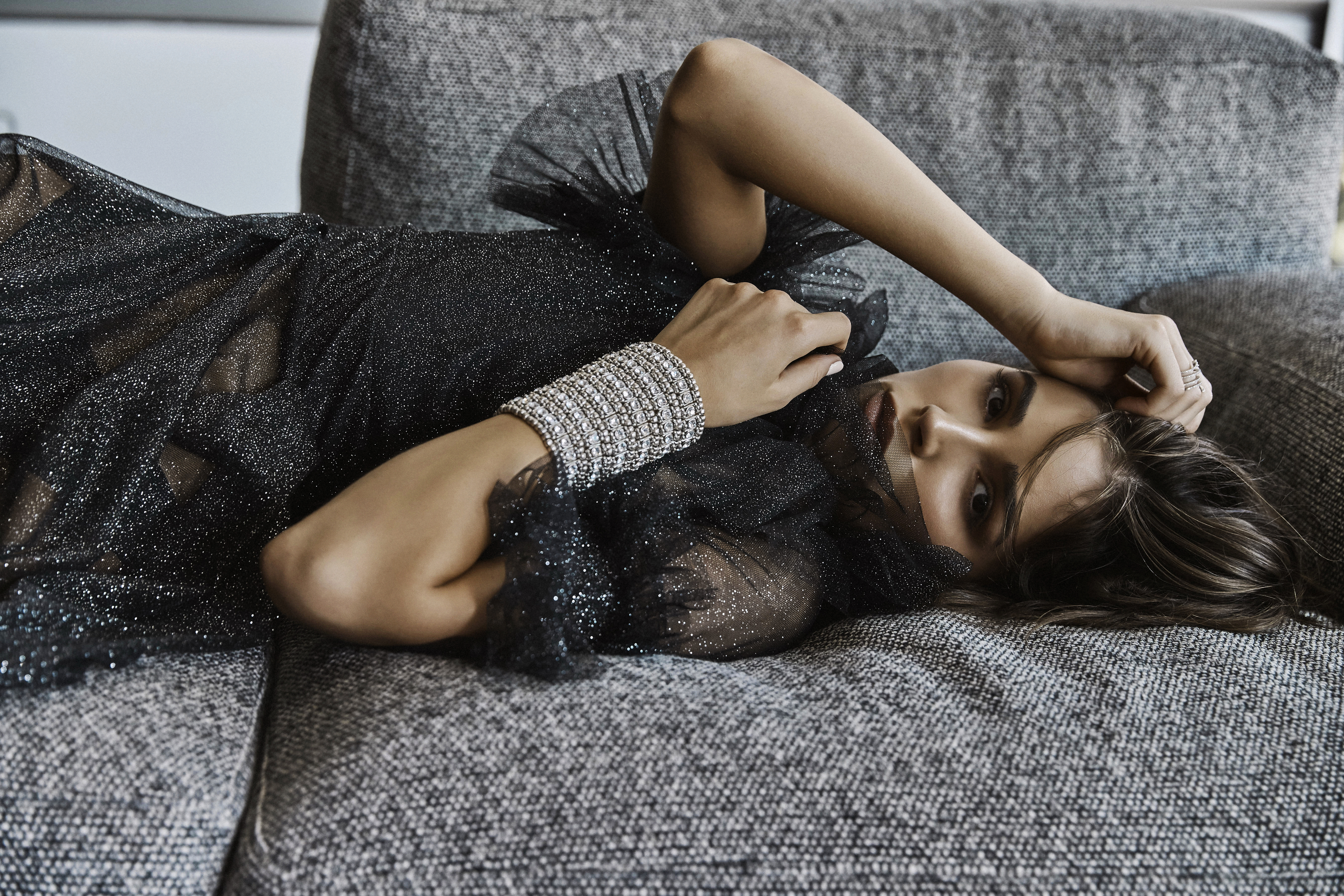 Dress – Co/Te
Cuff – Philippe Audibert
Ring – London Road
She said, "My personal style is classic but touches on current trends. For me, I like to think that what I wear is timeless. It could have been worn 20 years ago or 20 years from now."
She continued, "Style is about taking risks and inspiring people. It's easy to wear what you know will be okay and won't cause anyone to question it. Don't be afraid to think outside of the box; it is important to take risks and provoke people. Sometimes that means they won't like what you're wearing, but that's okay too."
Lately, Olivia has been kept busy on set with Emily Ratajkowski and Michelle Williams for Amy Schumer's new movie 'I Feel Pretty', which is due to be released next year. It tells the tale of Renee Bennett (Schumer) who deems herself to be average in a world of the genetically blessed. It is a moral tale that shows that true beauty is not skin deep.
Olivia has also been in Ohio filming Reprisal, a new action blockbuster with her co-star, Hollywood royalty, Bruce Willis. It tells the story of a veteran who embarks on a crusade to raise money for his son's healthcare by tracking down notorious criminals.
Olivia revealed excitedly, "I've been really enjoying myself, but I have to say, I'm literally the only girl on the entire set of Reprisal. It is interesting; there are a lot of big, strong action movie men and most of my other jobs are usually fashion and beauty related so this is a whole other world. I'm definitely more of a girl's girl but it has been a lot of fun."
This isn't Olivia's first foray into acting; she studied acting at Boston University and was cast in Ted alongside Mark Wahlberg, Seth Macfarlane and Mila Kunis. She also starred alongside Cameron Diaz, Kate Upton and Leslie Mann in The Other Woman.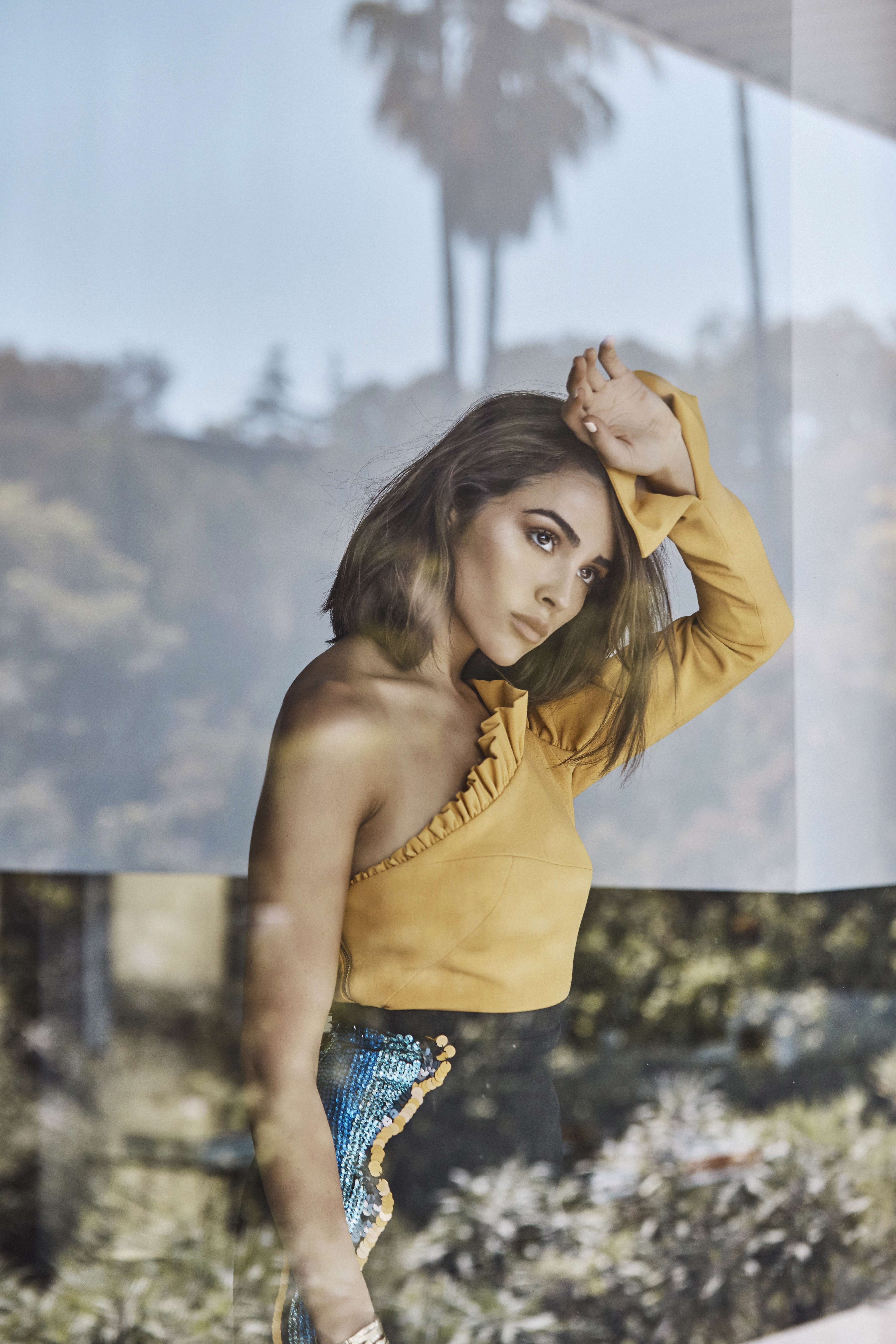 Dress (worn as top) – Three Floor
Skirt – Saloni
Bracelet – Laurence Coste
Ring – Charles Albert
They say it takes years of hard work to be an overnight success and Olivia has her eyes firmly on longevity.
She confessed, "People don't realise how much work it takes to make it because you are constantly building these small milestones in your career. My acting career has been a work in progress for a while, but hopefully, it is starting to take off."
Social media has played a fundamental role in Olivia's stratospheric success. She has garnered a loyal following of over 2.3 million across her social media platforms. She is the first to recognise that although social media can be a source of positivity and self-empowerment, there are those that will sell their soul for likes. Shying away from excessive nudity or negativity, Olivia has always been committed to spreading a positive message through her social media.
She confessed, "Social media is an important platform to be able to communicate, be inspired and express myself. However, the bigger your platform, the more your personal life is overexposed. It's a place for people to exchange ideas ultimately, and in that, you can learn a lot. You can learn about everything from fashion to parenting. I think that there are just so many ways that you can use it to gain information and inspiration, and for me, that's what it is all about."
The rise of social media in recent years has changed the way we work, shop and communicate. It is a vast source of knowledge for most but its dangers have been well documented. It is undeniable that young girls are struggling with body image more than ever before due to the constant exposure to unattainable figures. Social media has been held accountable for a vast range of pressures that are inflicted on young people today.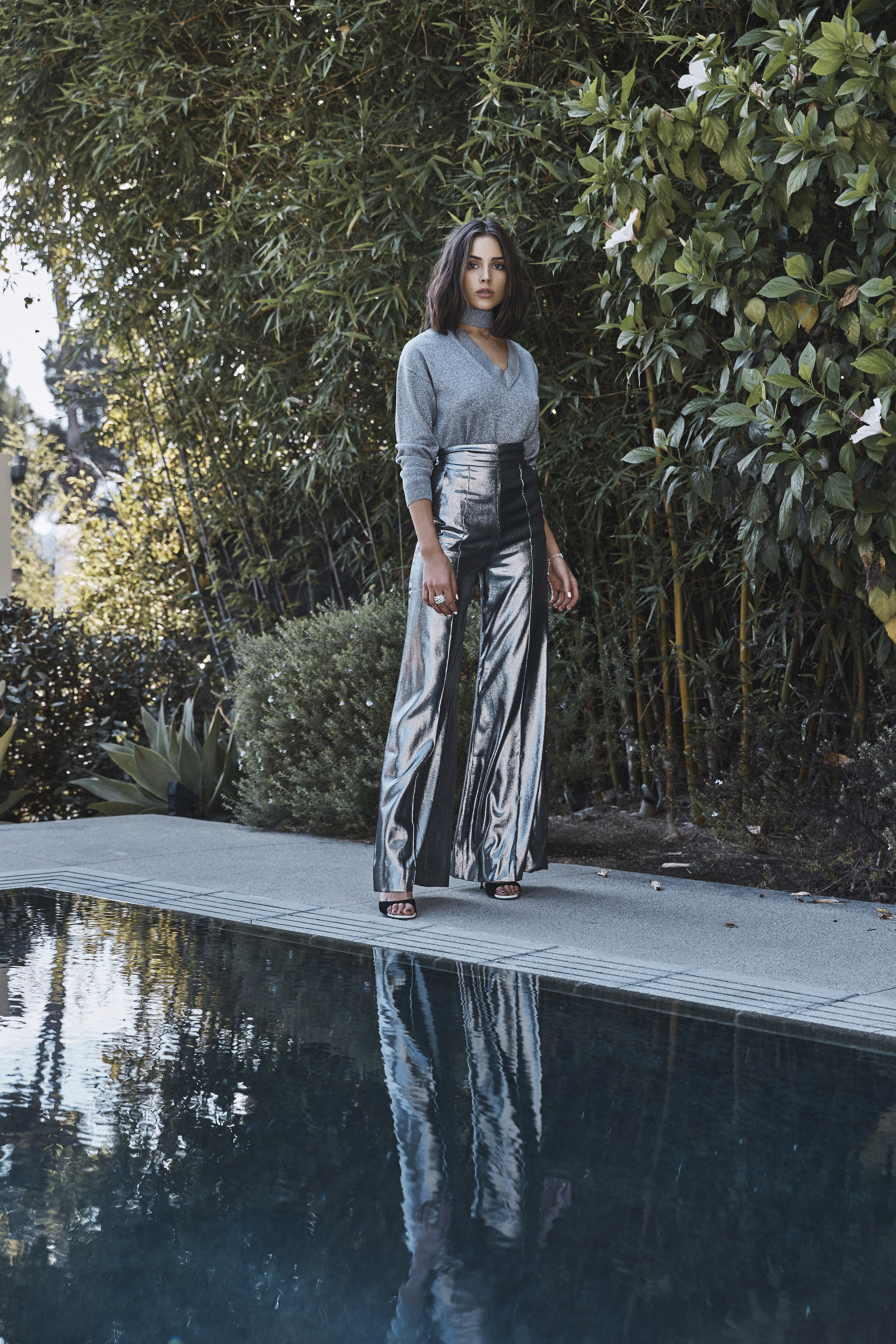 Top – Allude
Trousers – Wanda Nylon
Shoes – Rene Caovilla
Ring – Laurence Coste
Bracelet – APM Monaco
Nick Harrop, campaigns manager of national charity, YoungMinds said, "Social media also puts pressure on girls to live their lives in the public domain, to present a personal 'brand' from a young age, and to seek reassurance in the form of likes and shares."
Clinic psychologist Dr Rachel Andrew helps a number of young women dealing with anxiety and eating issues.
She said, "I think girls have never been more aware of their appearance and standards they want to achieve in how they look. There's a difference in the way girls and boys use social media. I'm still seeing boys using it for gaming, while girls are more interested in what their peers are doing, and who seem to be leading a more successful life than them."
This is a time for positive role models who accept responsibility for their status and aren't afraid to set the record straight on the snapshot of their lives that are seen through rose-coloured glasses and pretty filters.
Olivia said frankly, "Most of what we see on Instagram is a fantasised version of reality. It's a highlight reel, not real life – not everybody's bodies look like that, not everyday life is a vacation with crystal clear waters and pink sand. Although I think we are realising this more now, reality still needs to be communicated and promoted more on social media, it is hugely fundamental for our well-being, physically and mentally."
Olivia sighed deeply, then continued, "Instagram is predominantly a fabricated, fantasised, produced picture platform. Once you realise that it isn't an accurate reflection of real life, you can take from it things that inspire you, but they shouldn't make you feel bad about what you already are, they should only inspire you to be the better version of you."
If the past two years are an indication, Olivia has proven time after time that that dreams can quite easily become a reality, if we work hard enough and ensure our hearts are in the right place. I wonder, where we will be two years from now, with Olivia Culpo, anything is possible.
Instagram: @oliviaculpo
20 S County Trail, North Kingstown, RI 02852
Photography
Trevor King
Stylist
Jennifer Mickalski-Bray
Makeup
Gabrielle Solana using Too Faced, Charlotte Tilbury, Nude Envie and Sigma
Hair
Crystal Liz using R + Co
Manicurist
Arina Ossipova using Akzentz Luxio
Location
Case Study House #17, Hollywood Hills, Los Angeles